The PRIGO Medical and Science Grammar School  is a secondary school which initiated its activity in 1994. It is part of the PRIGO group of schools, which educates students at all levels of the educational system. The school is successfully entering its 29th year of existence. It as a faculty school of the Charles University in Prague.
It is based on the application of the unique, trade-mark protected PriorityGO approach, which combines individualised teaching, modern didactic methods and respect for the challenges of contemporary society. Education is seen by us as a lifelong philosophy and a continuous approach to life – not as a means to achieve other goals.
Providing education in the eight-year and four-year Grammar School, it focuses on very well-performing students who are interested in general Grammar School education with extensive classes in natural sciences and their related disciplines. At the same time, it is a Grammar School with a strong emphasis on language preparation in English, German, Spanish and Russian, which also includes lessons provided by native speakers and foreign students taking part in school and after-school activities. As one of few schools, our Grammar School is licensed by the Ministry of Education to teach some subjects in a foreign language, which is also reflected in our students' school reports. Classes also take place in newly built and equipped language and computer classrooms. PRIGO collaborates with over 20 foreign schools, from the United Kingdom, France, Germany, Austria, USA and China (click here). These aspects help our students initiate their university studies more easily both in the Czech Republic and abroad. Language classes also use the so-called "blended learning" – comprehensive interactive and multimedia language teaching which is a combination of e-learning and on-line participation of the teacher and the student.
The eight-year and four-year Grammar School focuses on the students who mostly want to continue studying at a university specialised in natural sciences. Currently, the students may follow two basic specialisations by choosing optional subjects, seminars and leisure activities. This includes medical, veterinary and pharmaceutical specialisations as well as specialisations for students aspiring to study at natural-scientific or technical faculties or the top-class faculties of economics.
Despite the specialisations mentioned above, the education we provide is in accordance with the Framework Educational Programme for Grammar School, so our graduates receive universal education, including instruction in humanities and culture, though with excellent skills in languages and natural sciences. Our students have broad general knowledge with excellent results in the school-leaving exam and they become successful in their further studies at prestigious universities in the country and very often abroad.
PRIGO is a school for life as it will be. We do our best to prepare our pupils and students to succeed in their future life, despite the fact that none of us has a clear idea as to what society and life will look like in a few decades. Our philosophy is based on the ten principles of the PriorityGo approach. We strive to educate creative personalities with a strong sense of adaptability and flexibility who will be able to prove themselves successful in life both at home and abroad. Therefore, we consider the development of critical thinking as the basis for preparation for future life. We emphasize modern didactic methods and the development of general competencies in teaching. We are aware of the fact that the school itself is no longer the sole or main source of information, and that its role is to some extent assumed by the online environment in the present time. That is why modern technologies are particularly important for us. We use mobile devices and the Internet environment not only as a part of teaching, but also in all other activities associated with attending the school. Our goal is for technologies to become a natural part of life, a tool for solving problems and simplifying work and life in general, not as a mean of consuming free time and replacing one's personal social ties. Meanwhile, we respect the traditional values and our cultural-historical environment.
We are a smart school. Our priorities include connectivity, electronic communication, and transparency. An emphasis is placed on safe work with technologies. For the last five years, we have significantly changed our approach to information and communication technologies and their meaningful involvement in teaching and other activities. While the principle "Bring your own device" was implemented at first, whereby the personal devices of pupils and students were appropriately involved in teaching, we are moving forward in this school year. At the PRIGO Elementary School, iPads and Apple TVs are being used on suitable occasions in all classes.
But we take things even further! From September 2021, a new system of teaching individual subjects based on work with information and communication technologies will be implemented at PRIGO schools. At the PRIGO Medical and Science Grammar School, all new students enrolled in our eight-year grammar school programmes as well as those students who will start the IB Diploma Programme (International Baccalaureate) will receive iPads, and so will their teachers. In the upcoming years, all our other pupils, students, and teachers at PRIGO schools will be gradually equipped in like manner. All devices will always be new, it will be possible to use it for school, extracurricular and personal needs, and after successful completion of the study, it will be left to the personal ownership of the pupil or student for a symbolic or residual price.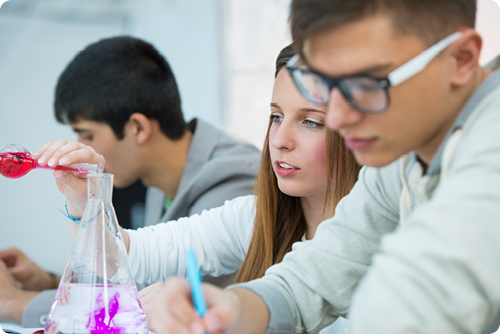 The essential and key task of our Grammar School is to provide our students with successful professional life through their education and preparation for the school-leaving exam or further studies at a university. The most important aspect, though, is to promote their balanced development through an appropriate combination of scholastic and extracurricular educational activities. You can find applicants for medical, veterinary or pharmaceutical branches among our students. We develop these students' qualifications for further studies. Nonetheless, we respect general scope of high school education with emphasis on foreign languages and globalised environment. Our intention is to especially develop the talents and skills of our gifted students who are interested in studying humanities, aiming to find their appropriate specialisation, for which we employ our trained teachers and psychologists.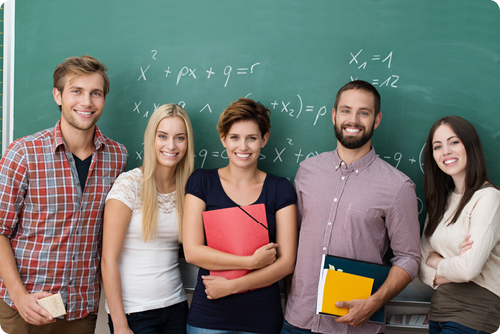 "The quality of each school is determined by the quality of its students. And the quality of the students is mostly determined by the erudition of their teachers." We then value our teachers who form a stable and committed team. We focus on creating the conditions for the teaching staff, material support and personal development. This allows qualified teachers to be selected only from among the best high-school teachers through demanding selection procedures. Our teachers are regularly evaluated in terms of their professional competence, methods of transferring their knowledge and their social skills by the Grammar School´s management as well as the students themselves. The students' results in the university entrance examinations and the school-leaving exams also constitute an important objective evaluation criterion.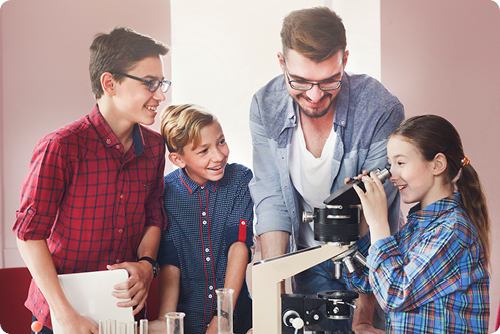 Personal approach is one of the priorities of the PriorityGO concept which we apply throughout our schools. Based on the interconnection within the group of PRIGO schools and because of the fact that it covers all levels of education,  we have a unique opportunity to offer our students the possibility to participate in the new BuddyGo system, which moves the meaning of 'personal approach' to the next level. Targeted mentoring connects different levels of education in the group of PRIGO schools. This way, our students develop the today's highly valued qualities such as responsibility and activity on the mentor-side, and easier integration on the mentoree-side. New school, new environment, new schoolmates and new teachers – we take personal approach really seriously. We will find a Buddy, a friend from a higher educational level, for every student. Your Buddy will guide you through the school, share tips on interesting school events and become your team mate. Loneliness will never trouble you. You'll make a successful team with your Buddy, and you may represent your school at various events. You'll also be a team of two friends who help each other. Mentoring at the Grammar School is important especially at the very beginning of studies, before the students find their way around and create their own school social group. An experienced Buddy already knows the school system perfectly and is well informed about the school and extracurricular activities. New students can contact their Buddy, whose experience they can rely on during the difficult transition period. All they need to do is to write an e-mail or text him/her via Messenger to get the information they need. You can take a look at how mentoring at PRIGO schools looks here.
International cooperation
Since 2017 the school has been taking part in the Duke of Edinburgh's International Award (DofE: https://www.dofe.cz/). The programme's goal is to support young people aged 14–24 in their comprehensive development of skills and abilities through long-term and regular activities in four interrelated areas: talent development, sports, volunteering and adventure expeditions at three levels. Upon the programme's completion, the participants can receive an internationally recognised DofE certificate. You can find out more about the DofE project here.
PRIGO cooperates with over 20 foreign schools from the United Kingdom, France, Germany, Austria, USA or China (click here). The international exchange of students and teachers makes one's acquisition of skills faster. Our students' education has therefore an international dimension. Both students and teachers are offered short-term and long-term study or work stays.